Tradingview Platform and Ecosystem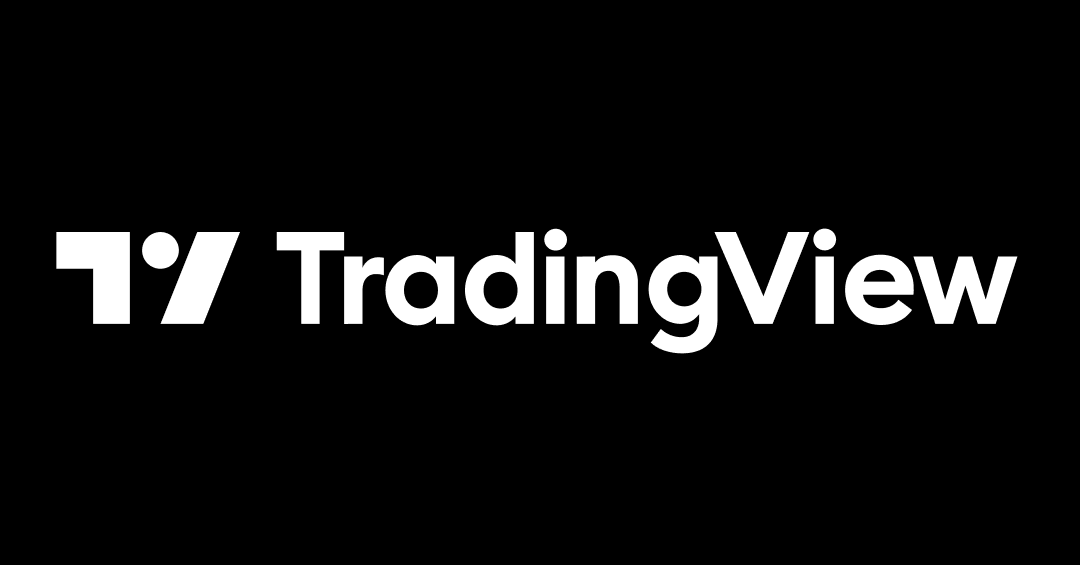 Welcome to TradingView - The Premier Social Network for Traders and Investors. Few tips and tricks for new users navigating through the platform and how to make use of Technical Indicators and Strategies developed by Trendoscope in the platform
What is Tradingview?
Tradingview is a charting social platform that enables users to publish their ideas, build algorithms based on technicals, and provide much other information about different instruments which can be traded. All our work is only available on the Tradingview platform. Hence, in order to use our algorithms, users need to have an account in Tradingview. 
Please note that Tradingview subscriptions are not the same as Trendoscope subscriptions and both are not related. Users can use either paid or free Tradingview plans in order to use Trendoscope-built tools. But, Trendoscope itself has both paid and free algorithms. You can find a shortlist of our free algorithms under the page "Free And Popular". Paid algorithms are available under the "Premium Indicators" page. You can check the complete list under the Tradingview profile Trendoscope.
Do we need Tradingview Account for accessing Trendoscope premium or free indicators?
Yes. All our work is built on the Tradingview platform. If you do not have an account already, please create an account using this link
Finding us on the Tradingview platform
You can simply follow the profile URL - Trendoscope or go to https://tradingview.com and search for Trendoscope in the search bar. The profile page also displays further information about the author on the reputation, following, published work etc.

Where can I find free technical indicators and strategies developed by Trendoscope?
You can find free technical indicators and strategies developed by us using two methods
On our Tradingview profile
Using our shortlisted indicators on our website and blogpost
On Our Tradingview Profile
You can find all the published indicators and strategies on the profile page. Filter only indicators or strategies so that libraries (which are intended to be used by developers) will not show up in the filter.

Further can filter only open or protected access types to access free-to-use indicators and strategies

We have shortlisted some of our free and premium indicators in our knowledge base to make it easier for users. You can check them on our website - Free and Popular Indicators
Where can I find premium technical indicators and strategies developed by Trendoscope?
Most of our work is published as open-source or protected so that people can use them. We have a select few indicators and strategies for which we charge a subscription fee. Our premium indicators are listed under "Trendoscope Premium Technical Indicators" blog. They are mainly
Auto Harmonic Patterns UltimateX
Auto Harmonic Projection Ultimate
Auto Harmonic Patterns Backtester
Auto Chart Patterns Ultimate
Auto Trend Lines and Support Resistance - Ultimate
These indicators would need special permission in order to be accessed. Subscriptions or trials for these indicators can be purchased via the Pricing page
How to use the indicators on the chart?
In order to use the indicators on the chart, you need to follow a few simple steps.
Open the indicator that you are looking to explore from our profile or via links provided in the blog posts or tutorials. Add the indicators to your favourite list
For example, to use Angled Volume Profile script, you can open the script page - https://www.tradingview.com/script/MgsLckWl-Angled-Volume-Profile-Trendoscope/
And scroll down after the description to locate the below section and select Add to Favourite Indicators

Then go to your tradingview chart using Supercharts from the Products menu. Once on the chart, you can open the indicators menu and you can see the indicators listed in the Favourites. Alternatively, you can search for indicators from the community library using the search bar. Paid scripts will be listed under the Invite-only Scripts section.
Clicking on the indicator will add it to the chart.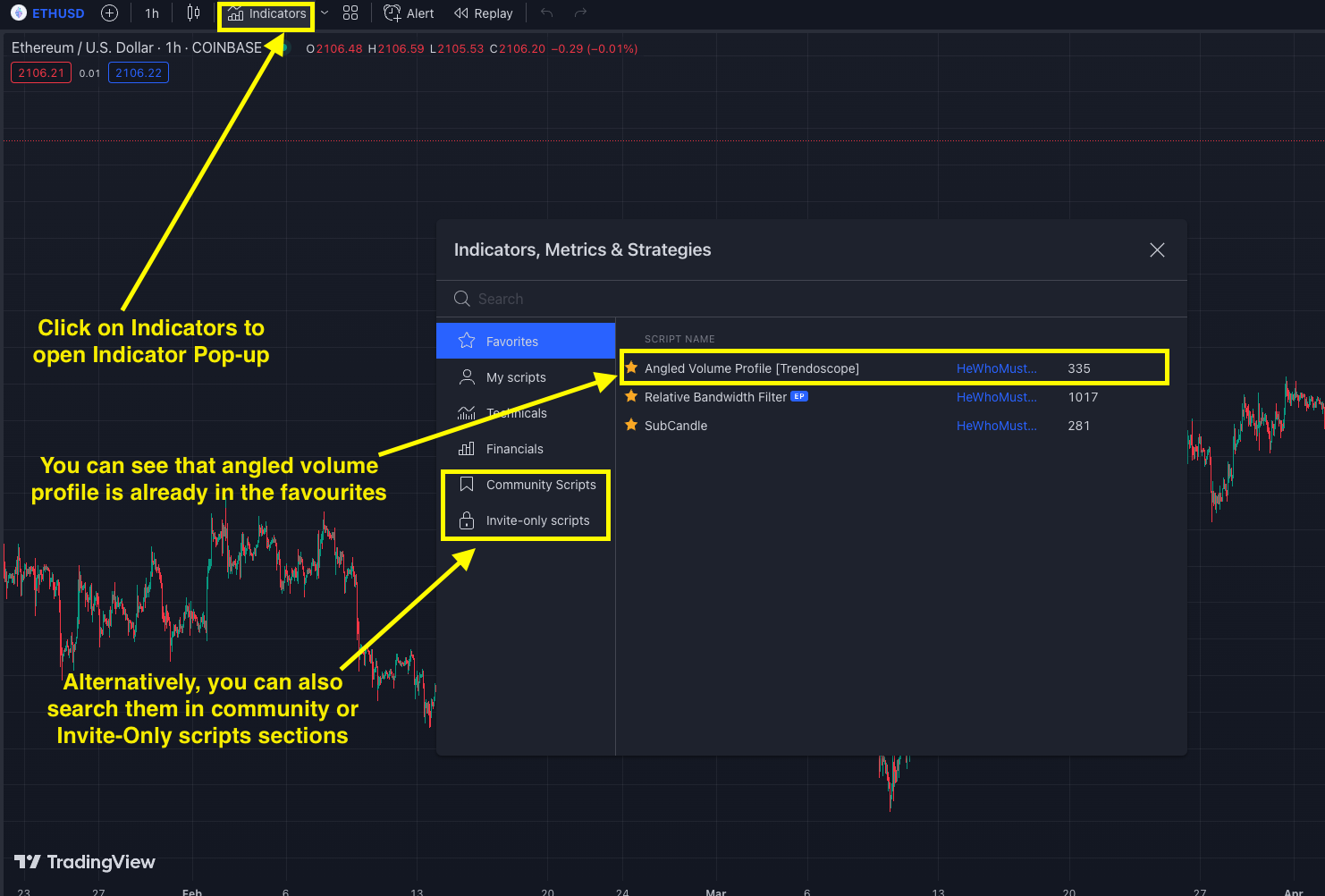 How to identify the usefulness of indicators?
Technical indicators are mathematical calculations derived from price action. They provide factual information such as what has happened in the past. Technical indicators will never guarantee what happens in the future. However subjective analysis can be applied to technical indicators. There is no guaranteed way of telling whether an indicator is useful for you or not. Users are encouraged to explore the indicators and study their suitability and educational value in them.
Having said that, there are few measures that can define the popularity of indicators on tradingview and the credibility of the author who published it.
Below are a few pieces of information visible on the author's page which can define the skills and credibility of author in providing popular indicators
Reputation - Reputation is earned by participating in community activities such as publishing open-source indicators, ideas, videos and other content. The number of boosts and comments received on published work will also positively influence the reputation of the author.
Ideas and Scripts - These are the number of publications done by the user.
Followers - Number of people following the author
Boosts - Number of boosts received by the author for all the published work
Badge - Badges will signify if the user is subscribed to the tradingview paid plan - pro, pro+ or premium. A special Wizard badge is given to a select few people who have done considerable contributions towards the Pinecoders community via various activities.
Below are some of the factors to consider for understanding the popularity of scripts
Detailed description - Check if the description is clear and explained thoroughly the features, input and outputs of the indicator.
Number Boosts - This is the number of people who liked the script. Can also tell about the popularity of the subject on which the indicator is built. For example, scripts made on pattern recognition will usually get a higher number of boosts than something made on a moving average or less popular subject.
Number of comments - This shows the social engagement activity on the script.
Editor Pick - Editor picks are given by Tradingview to select a few scripts to highlight the usefulness or creativity to the users. The scripts which do not have editor pick do not mean they are not useful. But, the ones having the editor pick awards are those which went through a panel of reviewers and were approved. Hence they carry some value towards the users. Only open-source scripts feature in editor picks. Protected and invite-only scripts are not considered for the award.