Premium Technical Pattern Indicators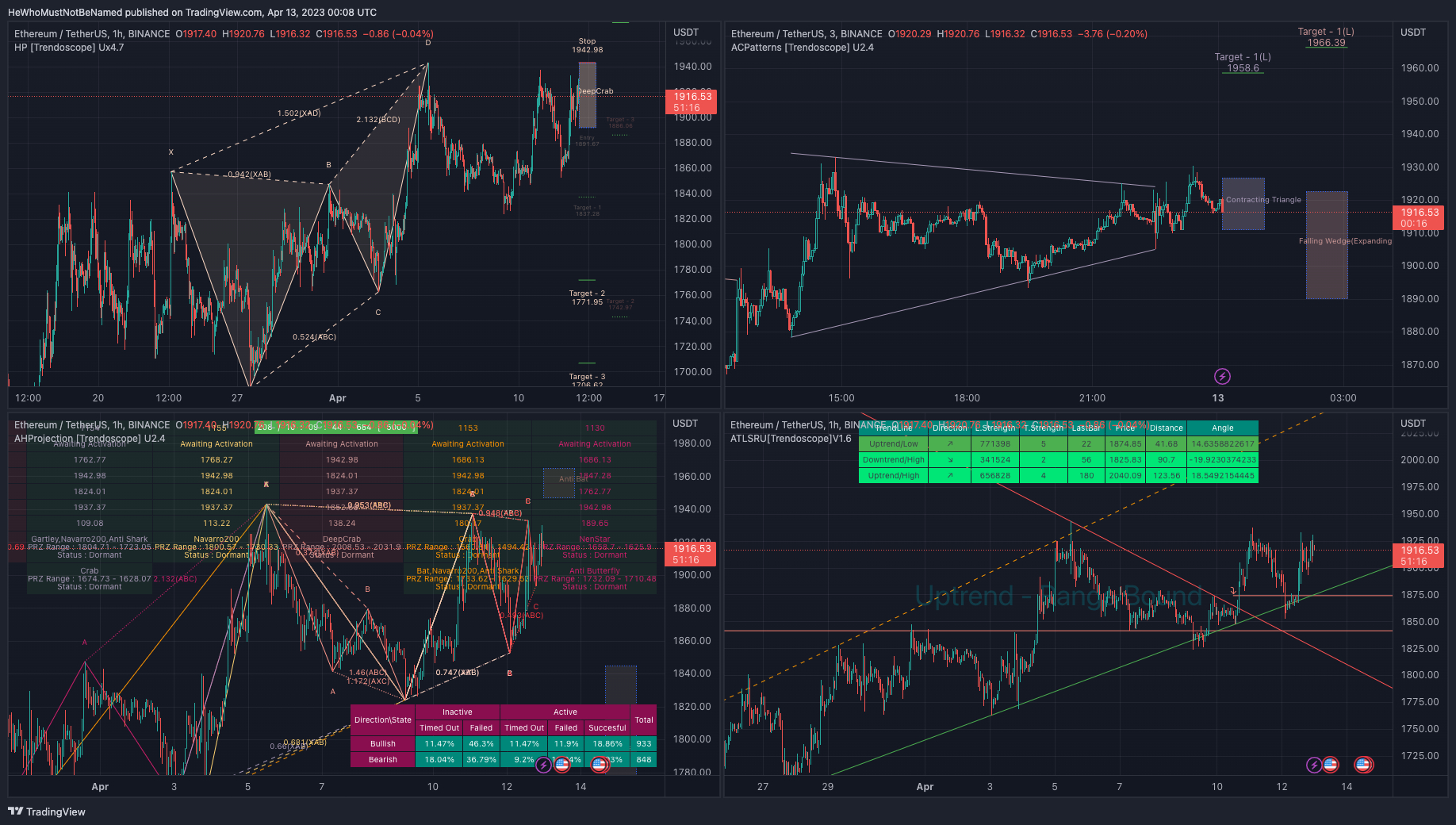 Unlock the power of Trendoscope's premium Harmonic Patterns and Chart Patterns indicators to identify market trends and take your technical analysis to the next level.
List of Premium Indicators
Following are our list of premium Harmonic Patterns and Chart Patterns Indicators that are part of Premium Trendoscope Indicators Bundle (Click them to see the published version of the algorithms on tradingview.com):
Requesting Trial Access
To request trial access, please go to the main website - https://www.trendoscope.io/trial
Or go to https://www.trendoscope.io and select Trial from the menu

A trial request page appears.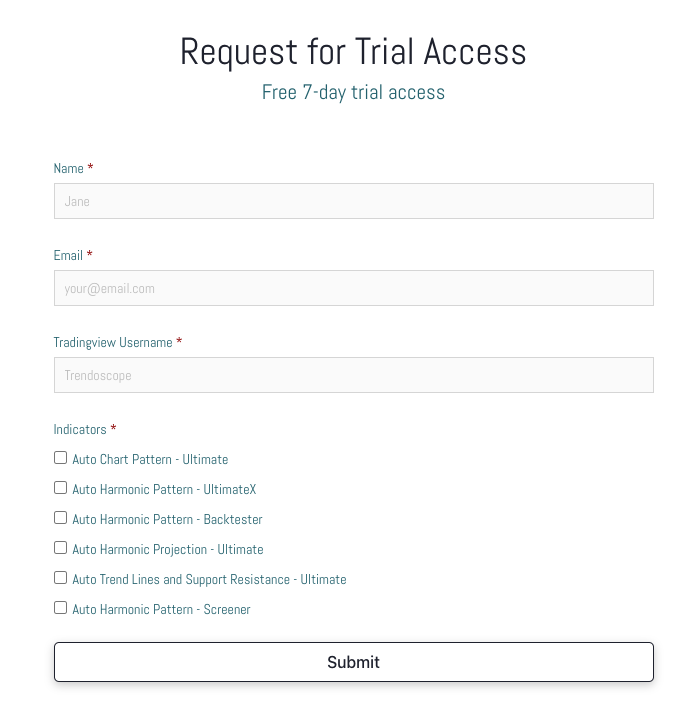 Please enter your name and valid email address. We do not send unsolicited emails. The email address you enter is only used for communicating the trial request status. The email address is not used for any promotions or marketing activities. There is absolutely zero chance of receiving spam emails from us.
We would also need a valid tradingview username besides a valid email address. This is required to verify if the user had previous access to the script and to provide trial access. Please do not provide the email id in this field. The Tradingview username can be found in your tradingview profile.
If you are unsure, please follow these steps
Login to www.tradingview.com
Click on your profile icon and you will see the tradingview username on the very first line in the dropdown menu.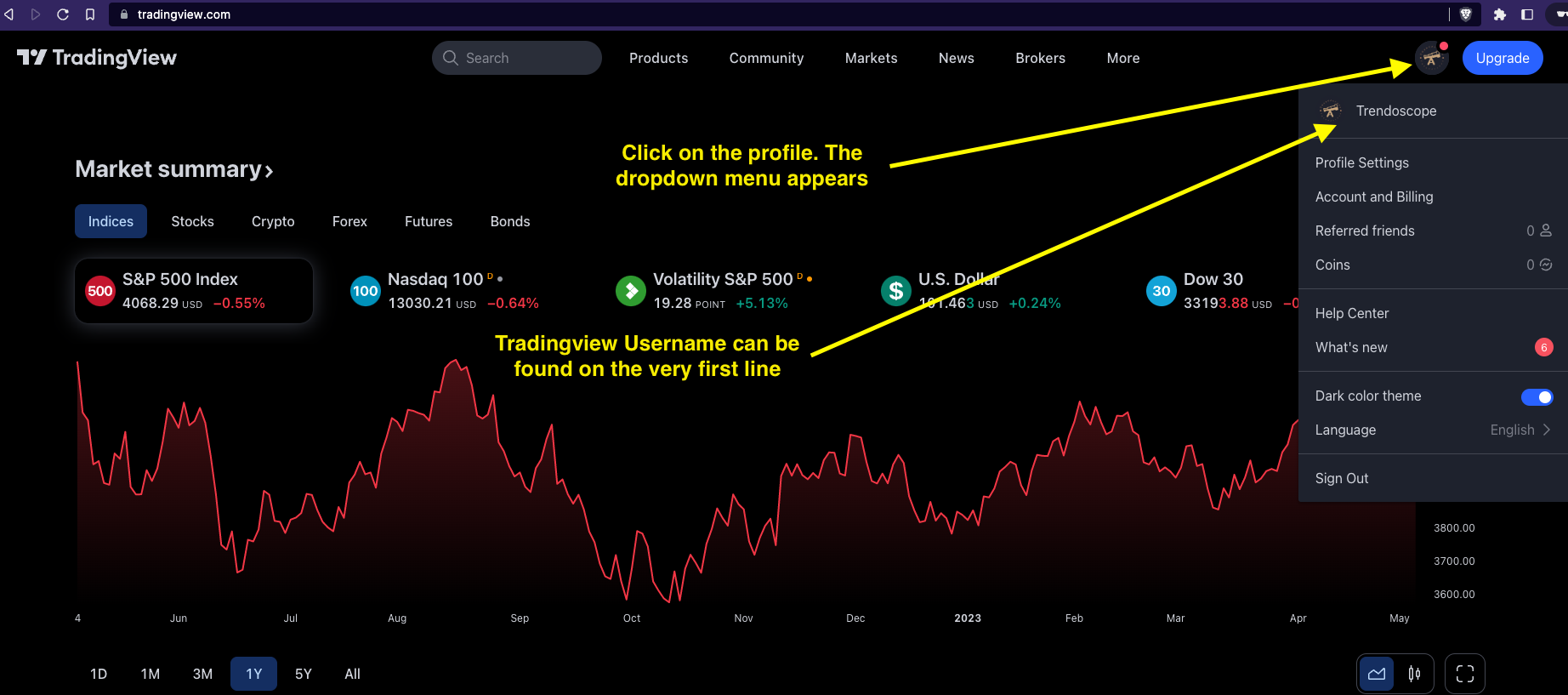 Requesting Subscription
To request a subscription, please go to https://trendoscope.io/pricing
Or go to https://www.trendoscope.io and select Pricing from the menu

We have greatly simplified our subscription pricing and there is just one product with different subscription durations. All our premium work is available to you under this subscription.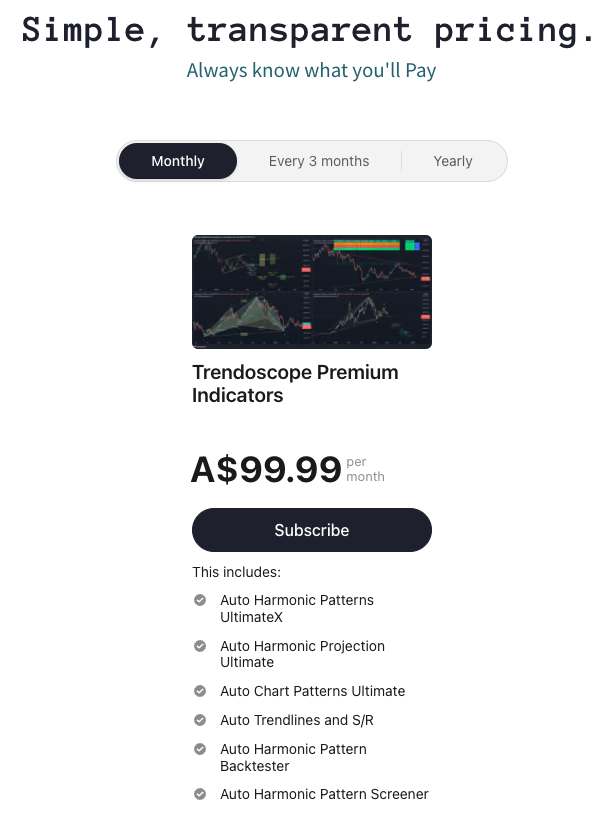 We have monthly, yearly and annual subscription models. Subscribers from Australia will see prices in AUD (Australian Dollars). Subscribers from the rest of the world will see prices in USD (US Dollars). Australian consumers will also pay GST for any purchases made from the website. 
Subscriptions can be cancelled at any time using Customer Portal. But, please note that only future transactions can be cancelled and no refunds are entertained as per our terms and conditions.
Select either a Monthly, Quarterly or Yearly subscription and click on subscribe. You will be taken to the billing page powered by the Stripe billing system.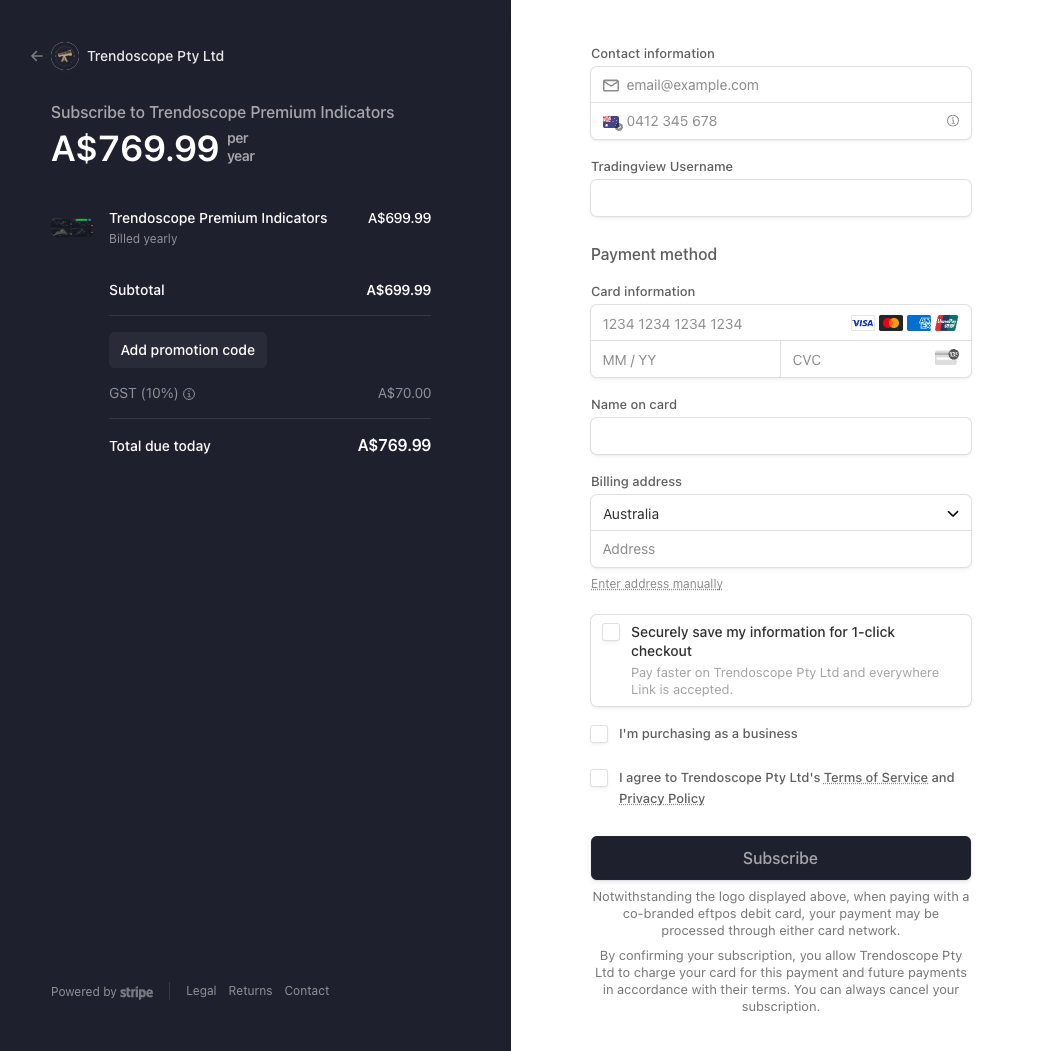 Please make sure you provide the right details for
Email
Tradingview Username
Other billing details
Please note that GST is charged to only Australian customers. If you are outside Australia you do not need to pay GST as per current law.
Stripe is a well-reputed and secure payment gateway provider. The card numbers entered are secure with the payment gateways and Trendoscope will not have any means of accessing these details or using them in any way. The only time the payments are processed from the given cards is via purchases and subscriptions. These are also handled automatically by payment processors and we do not play any role in accessing these data.
Please provide a valid address as payment processors may do additional checks to match them against the given card. Providing incorrect information may block the payment.
Post Purchasing Subscription
Once the order is submitted, you will receive an Order fulfilment status email from the automated processing system.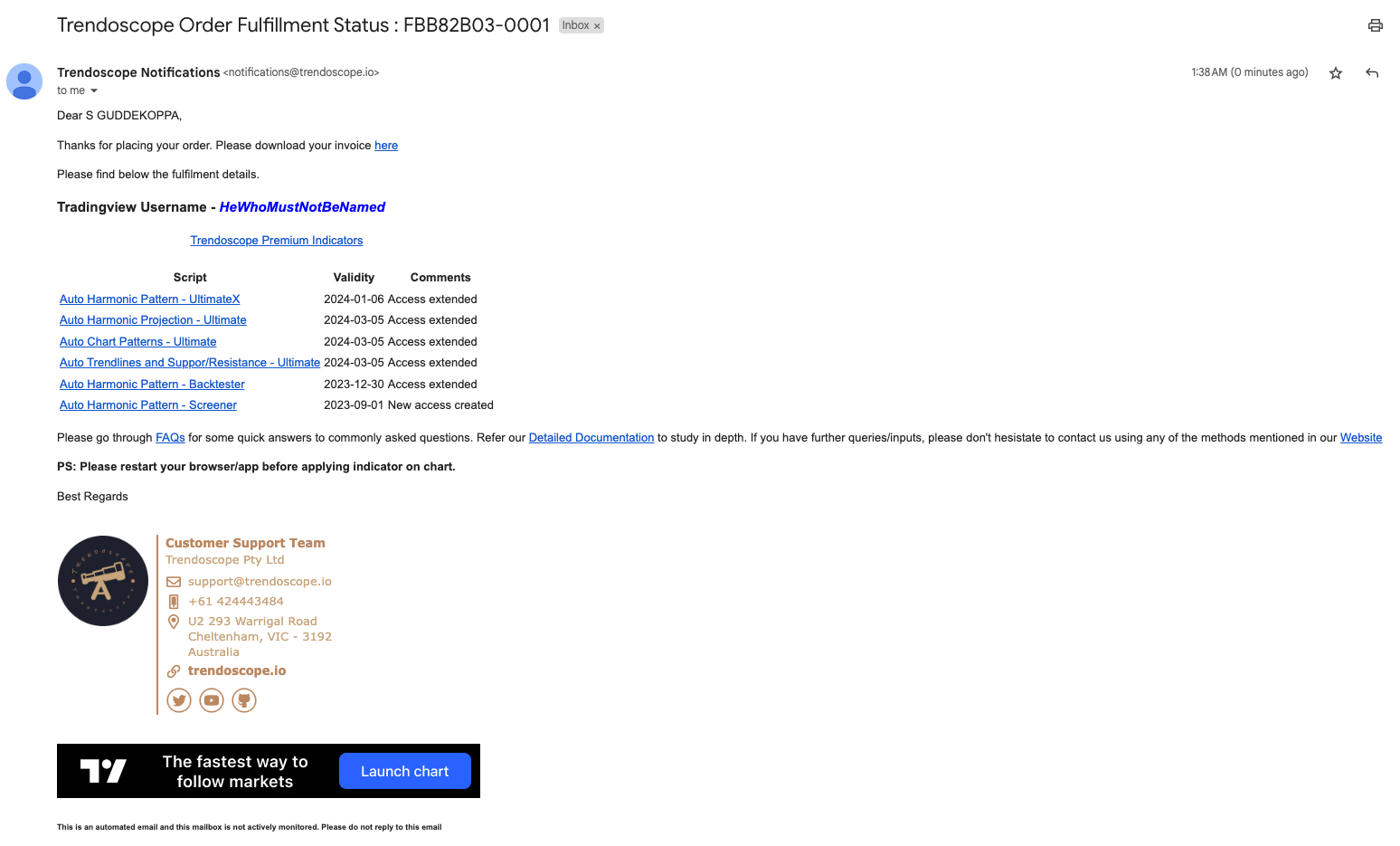 This email is sent from a no-reply email. Please do not reply to this email. If you have further questions, please contact us via Telegram or email [email protected]
If there is any error in the processing due to the wrong tradingview username, you will receive another email requesting you to provide the right details via an input form.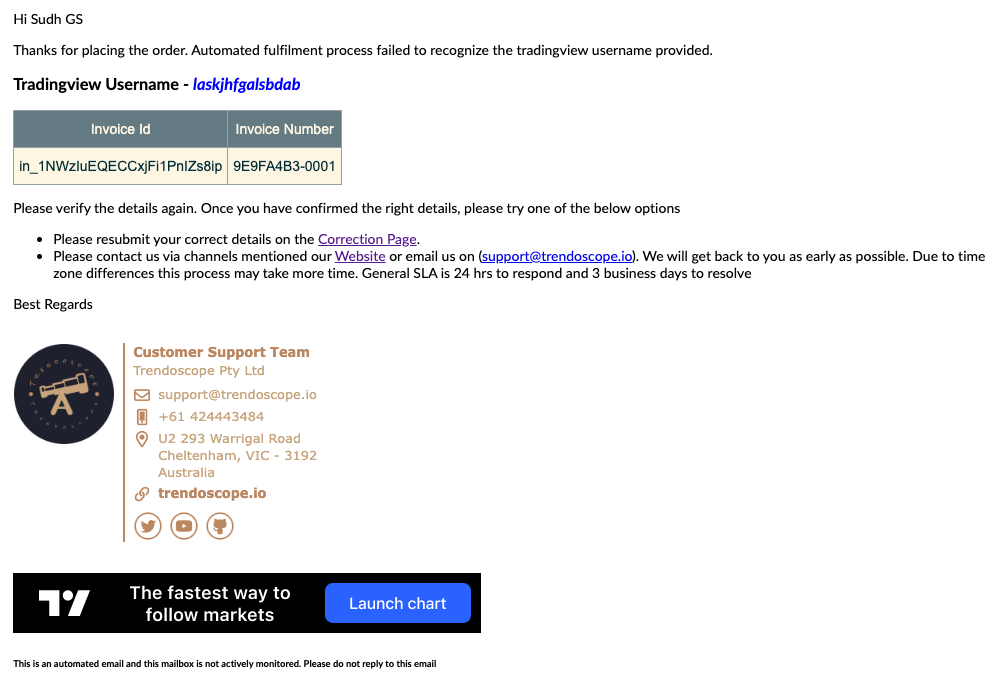 If you provided the wrong details and want a quick fix, you can also provide the correct details on the correction page and resubmit. Invoice ID and Invoice Number are provided in the email.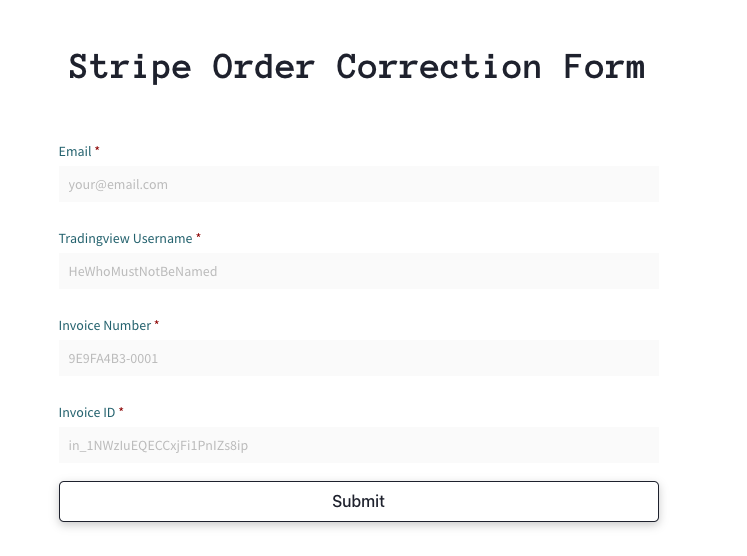 If it fails again, please contact our support team for further resolution.
Please note, that failure retry attempts are allowed only for paid orders and not for trial requests. If you have submitted the wrong details in the trial request, please submit another trial request with the right details.
Automated Order Processing
Both Trial Requests and Subscription Purchases are automatically processed and users will receive email updates within the next few minutes of the order. Providing the right information in order is critical for automated processing. Wrong details may lead to fulfilment failure and delay the access. Please make sure that you provide a valid Tradingview Username and a Valid Email Address in the order.
To understand how to find and apply premium indicators on the chart, please follow this guide on
Tradingview Ecosystem
Subscription Management and Cancellation
Subscription management can be done via the customer portal. To access the customer portal, go to
www.trendoscope.io
and click on the Portal option from the menu

The customer portal link will open in a new tab and you will be requested to submit your email address. Please enter the email address that is used for purchasing the subscription.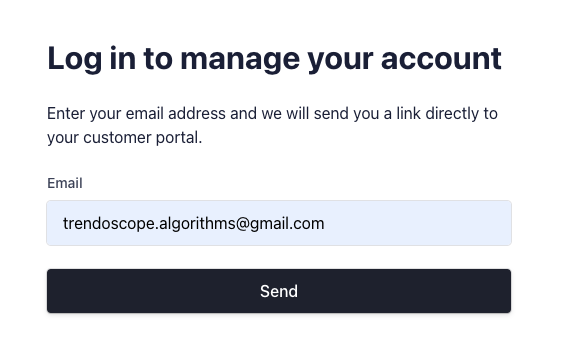 You will receive an email with the sign-in link that will be active for 30 mins. Sign-in link will take you to the customer portal where you can update your details such as payment details, address, etc and manage your subscription.