Auto Harmonic Patterns Extreme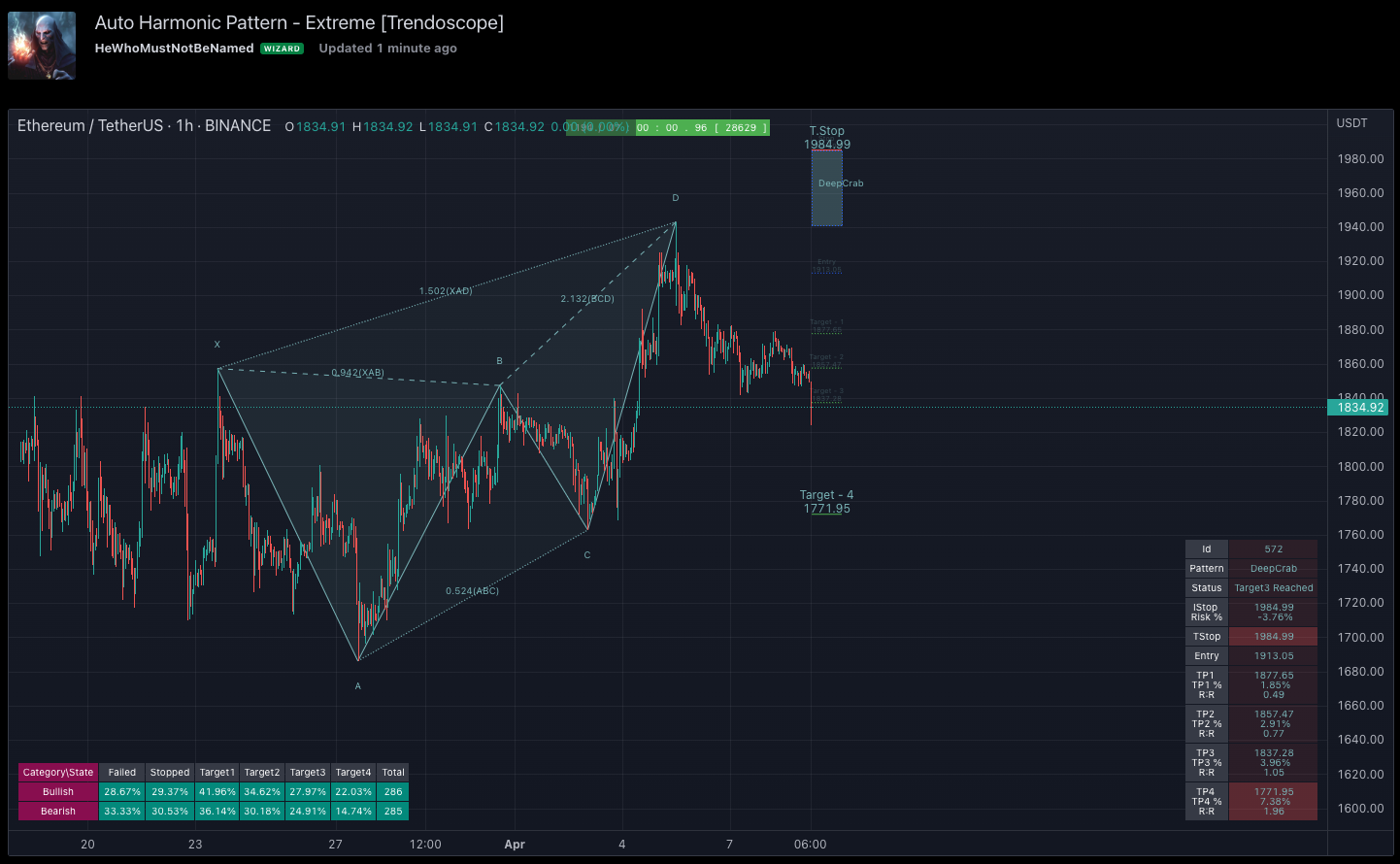 Auto Harmonic Patterns Extreme indicator is the most advanced free tool available for identifying harmonic patterns in the market. Developed by our team of expert traders and programmers, this indicator uses sophisticated algorithms to scan the market and identify key patterns such as the Butterfly, Gartley, Crab, and Bat patterns.
Link to the Indicator: Auto Harmonic Patterns Extreme
Brief History
Auto Harmonic Patterns Extreme indicator is created as a free alternative to Auto Harmonic Patterns - UltimateX - which is one of our popular premium indicators.
In order to use this indicator, users need to have access to the Tradingview platform. To know more about how to create a free tradingview account and how to use this indicator for free please follow this article - Tradingview Platform and Ecosystem
This indicator is a must-have for any Harmonic Patterns Enthusiasts and those hoping to learn Harmonic Patterns
Feature Highlights
Here are some of the highlights of this indicator.
Recursive and deep search zigzag algorithm which helps find patterns of any size.
Designed to work on any timeframe and instrument. Can be helpful in devising different types of strategies.
Variety of input parameters that can help experiment on hypothetical trade scenarios which in turn can be used for understanding probabilities and risk-reward of the Harmonic Patterns based trading system
Detailed stats presented for both on-chart Harmonic patterns and historical Harmonic Patterns.
Fully customisable alert which can be used to notify whenever a new pattern comes up on the chart.
Chose colours as per your chart theme - either dark or light.
Customisable backtest window
Chart Components - Auto Harmonic Patterns Extreme
When you load the Auto Harmonic Patterns Extreme indicator on the chart, you can find the following components.
Harmonic Patterns Drawings with lines and labels
Hypothetical stop, entry, and targets based on the input settings.
Open pattern stats table containing the details of Harmonic Patterns live on the chart in tabular format
Closed trade stats - which contain the backtest result of the algorithm based on the indicator settings.
Run timer - which says for how long the closed trade stats are collected.
Settings - Auto Harmonic Patterns Extreme
Harmonic Patterns is very complex indicator and there are lots of factors which can influence pattern detection as well as mechanism in which we trade. Hence, plenty of options are provided as part of settings so that users can caliberate the indicator in the way they want.